hey all,,
I have this picture to be more clear: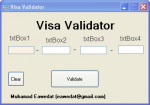 My idea is when I paste (ctrl+v) for example this number :
4111111111111111
it would automatically paste them in textboxes one by one in order!
so txtBox1 will contain : 4111
txtBox2 : 1111
txtBox3 : 1111
txtBox4 : 1111
the automation of inserting credit card's number will ease so much
so that user will not work so hard to cut & paste each four digits!
so any suggestion of doing auto-fill inside textboxes..?
2)if I am already in txtBox4 and want to delete back with the key "BackSpace/Return"
after deleting txtBox4's content and clicking one more time the "RETURN' key it would move to txtBox3 and so on until cursor gets to txtBox1...
thanks.