Joined

Jan 6, 2011
Messages

53
Programming Experience

Beginner
Greepings,
I've been banging my head on this for a few hours now and I can't seem to figure out a way to get around it. I've got a datagridview setup with lots of empty columns and rows. The user clicks into a cell to fill it with a pattern they've picked. I want the patter to go right to the edge of the cell, but I can't seem to get rid of the padding, even though I've set everything to zero and even when I do a test and ask it to report the padding for that cell, it says it's zero, but it most certainly is not.
Increasing the font size just pushes it off the right side of the cell while leaving a blank space on the left. I've changed alignments to top-left, top right, center, etc etc with no luck.
Anyone have an idea?
Image as an example.
Conversely, if someone has a better way of doing this without a datagridview, I would be MORE than happy to hear about it.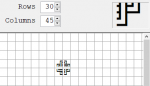 Last edited: