Joined

Apr 26, 2010
Messages

37
Location
Programming Experience

10+
Hi
I am looking to create a Panel of Emotions/Smileys so that when cliked they insert a Smiley into my RichTextbox.
I am looking for pointers as tis must have been some elsewhere.
Such as
MCT Program opens July 14th, 2014 to new applications - Certified Trainers (MCT) - General Info Only - Forums - Born to Learn
When replying to a question - this site has a popup window for Smiley/Emotions and when inserted they create the image. (Sometimes animated).
My main form is as follows :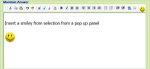 The form I am hoping to create would be something like the following :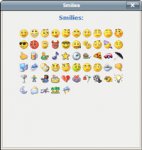 I am not sure but I suspect I will invoke a Form with maybe 20 buttons with the various smileys/Emotions as images and then insert either the Smiley either as an Image or Text that eventually is converted to a Smiley.
I am looking for direction really.
Thanks in advance for your help.