Joined

Dec 5, 2005
Messages

137
Programming Experience

10+
Silverlight Barcode Builder - Create and print high quality vector-based Linear, Postal and 2D Barcodes
Technologies used
- Neodynamic Barcode Professional for Silverlight (any version)
- Silverlight 4 or greater
- Microsoft Visual Studio 2010
- Microsoft Visual Basic 2010 Express Edition
- Microsoft Visual C# 2010 Express Edition
This sample application illustrates how easily you can use Barcode Professional in Silverlight Applications for creating a very complete Barcode Builder.
Barcode Professional for Silverlight supports most popular linear (1D), Postal and 2D barcodes
and in this sample application you can use it to create a Barcode Builder featuring all symbologies provided by Barcode Professional for Silverlight like Code 39, Code 128, GS1-128, GS1 DataBar (RSS-14), EAN 13 & UPC, Postal (USPS, British Royal Mail, Australia Post, DHL, etc.), Data Matrix, QR Code, PDF 417, UPS MaxiCode, Micro QR Code and many
more barcode standards
.
The Silverlight Barcode Builder sample demo features:
- A simple Silverlight Application which will allow the user to generates all barcode symbologies supported by Barcode Professional for Silverlight.
- Allows the user to rotate, zoom, print and save barcodes. Barcodes can be saved in JPEG, PNG, BMP and GIF formats thanks to <a href="http://imagetools.codeplex.com/">ImageTools Library for Silverlight</a>.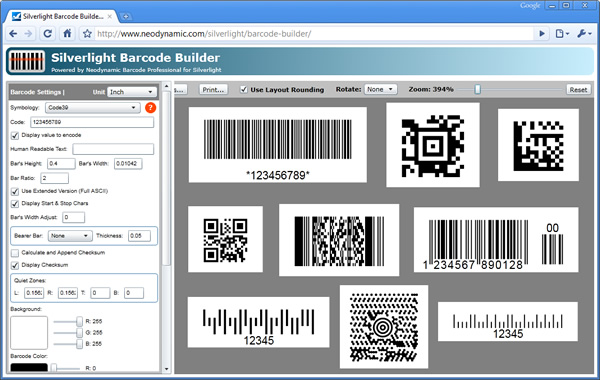 Links:
This Demo
More Demos
Download Barcode Professional for Silverlight
More Information about Neodynamic Barcode Professional for Silverlight
Neodynamic
.NET Components & Controls
Neodynamic