Joined

Dec 6, 2015
Messages

2
Programming Experience

Beginner
I am basically looking for a way to animate a right angle triangle.
The right angle triangle would be placed within a panel in a windows forum. The base angle would be changed to a degree entered by the user in a textbox(so it would be less than 90 degrees), the base length however should not change. please view the diagram below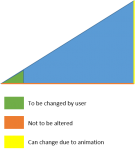 i would thinking a good way change the drawing would be to run a timer with a interval of 5 milliseconds uf the angle has number entered in the textbox has changed a new one would be redrawn.
i am open to any suggestions tho