Hello
My 'forgotten password' page does not send any email to the user which would otherwise contain a link to reset the password. When the link is clicked, a new page, newPassword.aspx, should be displayed for the user to reset the password.
I am trying to identify why the email is not being sent. In my code, I have this:
If recordExists Then

            Dim builder As New UriBuilder(Request.Url)
            builder.Path = VirtualPathUtility.ToAbsolute("~/newPassword.aspx")
            builder.Query = "uniqueCode=" & HttpUtility.UrlEncode(uniqueCode)

            Dim link As String = builder.Uri.ToString()
            Dim myMessage As New MailMessage
            Dim Smtpserver As New SmtpClient
The file, newPassword.aspx in this code is taking a tilde, and I wonder if that is correct when both forgot.aspx and newPassword.aspx appear together (not in their own separate folders) in Solution Explorer: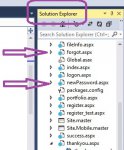 It may be that I am barking up the wrong tree completely but as I say, I am attempting to identify the source of why the forgot.aspx page is not sending the email or launching newPassword.aspx.
Thanks.
Last edited: