Hi guys.
I really need help regarding biometrics attendance using vb and excel..
We used biometrics in our office for attendance. Attach is the Raw log in and log out sample of the employees that is exported on Microsoft Excel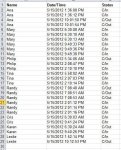 What I need to do is through the exported Microsoft Excel file that contains the log-in and log.out, I need to
extract the First Log in and Last Log out
of every employee regardless of the schedule.
Because there are employees who log-in or log-out twice or thrice.
It will be placed on another excel sheet which contains the name, log-in and log out time.
Employees have different schedules, there are 6am-2pm, 2pm-10pm, 10pm-6am, 5pm-1am 9am-5pm depending on what account they belong.
I hope you can help me on this.
Thank you so much..