Hi again friends,
So actually what I've been trying to do is practice collecting data from one of my temporary websites (more like a web page).
I have added product details to this web page & was trying to practice parsing the data & then sending that data to either a listview or datagridview into their own columns & rows.
I would try collecting each array (into it's own list) from each html element (Product Title, Price, & # Sold), but have had NOTHING BUT TROUBLE trying to get them into the datagridview!
Here is the code that I've been working with. I know that this is DEFINITELY NOT the way to add the elements to the DataGridView, but it's DEFINITELY a good start:
HERE'S WHAT MY DATAGRIDVIEW LOOKS LIKE!: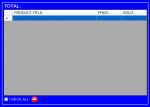 Would appreciate any help that you could provide. Thanks again for helping!
Last edited: