Joined

Nov 22, 2012
Messages

40
Programming Experience

Beginner
ok here's the problem, i have 2 datagridview in my form, namely datagridview1 and datagridview2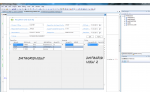 what im trying to accomplish is to execute a query in each row(datagridview1), and the result will be displayed also in each row of datagridview2(with column name BALANCE_QTY AND CONSUME).
(note: with corresponding row or the same row)
for example i want to get the balance_QTY(datagridview2) of a stock(in my 1st row) where stock_No(datagridview1) = 179000 and will display the result on datagridview2(1st row)
i want the program to do looping and execute query in each datagridview1 row,. is this possible?if yes please take some time to give suggestions, i really need it..
thanks in advance and god bless you...