Hi all,
I am trying to debug an application on a WM6.5 device using VS2005.
I installed windows mobile 6 SDK and everything works correctly except one thing. WHen I select a WM6.5 device in the target device combo box and then try to make it connect with VS it always gives me the following error: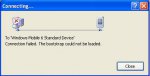 I have googled about it without success. Most of the posts do say to install some certificates on my WM6.5 device but they tell to get those ones from a VS2008 path...
Does anyone know something about it?
Thasnk!!